Register Now for Greenhorn Grazing Series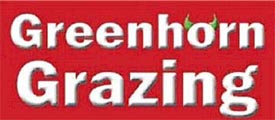 5/28/14
Contacts: Joe Sellers, Iowa State University Extension and Outreach beef program specialist, 641-203-1270, sellers@iastate.edu
Sherry Hoyer, Iowa Beef Center, 515-294-4496, shoyer@iastate.edu
CHARITON, Iowa -- The popular "Greenhorn Grazing" program is back, with an information-packed schedule of five sessions beginning in mid-June. Originally funded by a grant from the Leopold Center for Sustainable Agriculture at Iowa State University, the program was created by staff from Iowa State University Extension and Outreach, Iowa Beef Center and Natural Resources Conservation Service. ISU beef program specialist Joe Sellers said that collaboration continues along with assistance from new partners.
"Beginning graziers and producers who want to upgrade their pasture management will find this valuable," Sellers said. "Our sponsors now also include the Southern Iowa Forage and Livestock Committee and AgriLabs."
Presenters will include experts in grazing systems, animal performance, fencing and watering systems, and weed management. 
The workshops are scheduled for June 18, July 15, August 18, October 23 and November 18.  The first two and final two sessions run from 10 a.m. to 2:30 p.m. and begin with a classroom session at the meeting room of the ISU McNay Research Farm, located southwest of Chariton. Following a working lunch, the group will take part in field activities at some local farms. The August 18 meeting, which features grazing consultant Jim Gerrish, will run from 10:30 a.m. to 3 p.m. It starts at the McNay farm, and will be followed by a pasture walk at the Jeff and Sandy Lutz farm near Powersville, MO.
The registration fee of $80 covers all five sessions, a notebook of grazing resources, and lunches provided on site. See the series brochure.
For more information contact Joe Sellers by phone at 641-203-1270 or by email at sellers@iastate.edu or call Brian Peterson at 641-344-1026.  Registrations are due June 13, and can be mailed to the Lucas County Extension office, 48293 Hy Vee Rd, Chariton, IA 50049.
-30-
The Iowa Beef Center at Iowa State University was established in 1996 with the goal of supporting the growth and vitality of the state's beef cattle industry. It comprises faculty and staff from Iowa State University Extension and Outreach, College of Agriculture and Life Sciences and College of Veterinary Medicine, and works to develop and deliver the latest research-based information regarding the beef cattle industry. For more information about IBC, visit www.iowabeefcenter.org
2014 News and releases