ISU McNay Farm Will Host 2019 Update for Beef Veterinarians

note: pdf files open in new window/tab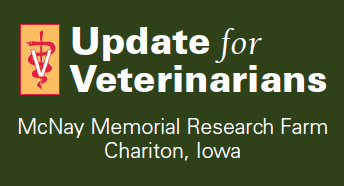 4/26/19
CHARITON, Iowa – The annual Update for Veterinarians program, organized and provided by Iowa Beef Center, features a full day of education and information focused on beef cattle production. Iowa State University Extension and Outreach beef specialist Chris Clark coordinates the program and invites practitioners who work with cattle to make plans now to attend the event set for Tuesday, June 11, at the Iowa State McNay Research Farm near Chariton.
"The Update for Veterinarians provides area cattle veterinarians with quality continuing education and offers them an opportunity to become acquainted with ISU Extension and Outreach and Iowa Beef Center staff," Clark said. "I think we have some important and timely topics on the agenda this year. The morning program includes discussion on appropriately completing certificates of veterinary inspection, updates from the VDL, and health management considerations for confinement cow-calf operations. Afternoon topics include discussion of animal welfare issues related to extreme weather, management of cows after a tough winter, and foreign animal disease preparedness. The program has been approved for six hours of continuing education credits."
Those who preregister by June 6 will pay $65 per person, which includes the noon meal. Those who register onsite will pay $85. All registrations are done through the Lucas County Extension Office in Chariton.
Registration begins at 8:30 a.m. at the McNay headquarters with the first speaker starting at 9 a.m. Please note that start time is just a bit earlier than the past couple of years. A catered meal will be served at noon and the program is expected to end around 4:15 p.m.
The brochure with a fillable registration form is available on the IBC website. For more information, contact Clark by phone at 712-250-0070 or by email at caclark@iastate.edu.
-30-
The Iowa Beef Center at Iowa State University was established in 1996 with the goal of supporting the growth and vitality of the state's beef cattle industry. It comprises faculty and staff from Iowa State University Extension and Outreach, College of Agriculture and Life Sciences and College of Veterinary Medicine, and works to develop and deliver the latest research-based information regarding the beef cattle industry. For more information about IBC, visit www.iowabeefcenter.org.
Contact:
Chris Clark, Iowa State University Extension beef specialist, 712-250-0070, caclark@iastate.edu