2020 Update for Veterinarians Program Goes Virtual


note: pdf files open in new window/tab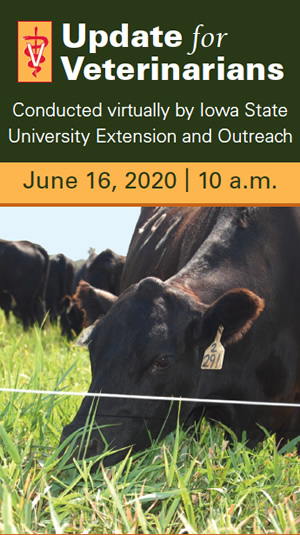 5/29/2020
CHARITON, Iowa — The 2020 Update for Veterinarians program will be held as a virtual webinar that can be viewed from home or office. The June 16 program, organized and provided by Iowa Beef Center, features six full hours of education and information focused on beef cattle production. Iowa State Extension and Outreach beef specialist Chris Clark coordinates the program and invites practitioners who work with cattle to make plans now to register for the virtual event which will begin at 10 a.m.
"Organizing this event has been challenging as we try to navigate through the coronavirus pandemic, but I really want to provide an opportunity for some quality continuing education as we approach the end of this licensure period," he said. "Using a virtual platform will allow this to happen in an easily accessible way."
Clark said attendees will hear about important and timely topics during the day's program.
"The morning presentation from Dr. Dan Thomson will focus on some of the potential management, health and welfare issues associated with the disruptions of the cattle processing capacity and the back-up of market-ready cattle," he said. "Afternoon topics include diseases that are transmitted between wildlife and livestock, and practical application of pain management strategies in beef cattle practice. Finally, we'll round out the afternoon with updates from the Veterinary Diagnostic Laboratory."
Six hours of continuing education credit have been approved for the program.

View and download the brochure with complete agenda, speaker biographies and registration information. 
Another benefit of this year's virtual learning platform is financial.
"Using the virtual format, I think we can keep costs pretty minimal and are providing this program free of charge this year," Clark said. "Preregistration for the Webex platform session is strongly encouraged for easier and faster access the day of the program."
See details and registration information on the main webinar page. Once registered, you will receive an email with a link to join the event the morning of June 16.  Participants can join the event beginning at 9:50 a.m. and are encouraged to join a few minutes prior to the 10 a.m. start time.  If you have any questions, contact Clark prior to the event by email at caclark@iastate.edu or call 712-250-0070.
-30-
The Iowa Beef Center at Iowa State University was established in 1996 with the goal of supporting the growth and vitality of the state's beef cattle industry. It comprises faculty and staff from Iowa State University Extension and Outreach, College of Agriculture and Life Sciences and College of Veterinary Medicine, and works to develop and deliver the latest research-based information regarding the beef cattle industry. For more information about IBC, visit www.iowabeefcenter.org.
Contact:
Chris Clark, Iowa State University Extension beef specialist, 712-250-0070, caclark@iastate.edu