Iowa Beef Center News & Releases 2015
December
The Cornbelt Cow-Calf Conference, Iowa's premier educational event in Iowa for cow-calf producers, is offering a comprehensive package of information to attendees next month. No fee to attend and no preregistration necessary, says ISU Extension beef program specialist Pat Wall.
Do you have a hard-to-buy-for farmer in your life? What could be better than the gift of education? Consider this unique holiday gift: a registration to the Driftless Region Beef Conference set for Feb. 4-5, 2016, at the Grand River Conference Center in Dubuque.
Iowa Beef Center offers newly revised feed bunk management publication and companion SOP document. In a time of cheap corn prices and volatile cattle markets, focusing on effective management techniques like feed bunk management can help producers improve efficiency.
Feedlot Forum 2016 will focus on pressing issues such as defending agriculture, sustainability, competitiveness, drug usage and profitability. Feedlot Forum 2016 is set for Tuesday, Jan 19 at the Terrace View Event Center in Sioux Center.
Iowa Forage and Grassland Council Conference Moves to January. By moving the date and location of the annual Iowa Forage and Grassland Council (IFGC) Conference, the IFGC board of directors hopes to provide attendees with more opportunity for grazing and forage discussions. The event is set for Jan. 21-22 at the Iowa State University Alumni Center, just south of Stephens Auditorium at the Iowa State Center in Ames.
November
The final session of a Grassroots Grazing series for young and beginning graziers in southern Iowa is set for Dec. 14 in Oskaloosa. ISU Extension beef program specialist Pat Wall said this event will focus on winter feeding and grazing. No cost, but preregistration is strongly encouraged.
October
September
ISU's Garland Dahlke was recognized as a Professional & Scientific Regents Award for Excellence winner during the annual University award ceremony this week. He's a valuable team member with nationally recognized expertise in the development of more than a dozen decision tools for livestock producers.
Media mention
KTVO-TV coverage of Van Buren County Pasture Walk's baleage segment, featuring ISU's Patrick Wall.
Free online BQA certification available until November 20, thanks to partnership with Boehringer Ingelheim Vetmedica. Inc. Start at www.BIVI-BQA.com for the online modules. Click on one that fits your needs, register and use passcode BIVIBQA as payment. View the videos, pass the quizzes and you'll become BQA certified. Need more information? Iowa producers should contact Iowa's BQA coordinator Doug Bear at doug@iabeef.org or 515-296-2305.
Iowa State University's Iowa Beef Center and beef nutrition faculty and staff are planning the 2015 Beef Nutrition Research Showcase event to be held Friday, October 2. Be sure to preregister by the Sept. 25 deadline to attend this free event. See more info.
The Iowa Forage and Grasslands Council's annual conference is set for Jan. 21-22 at the ISU Alumni Center in Ames. It immediately precedes the PFI conference on Jan. 22-23, and the organizations are partnering on agendas and industry expert speakers, especially on grazing and forage topics. IFGC members pay $40 in advance and non-members pay $60 in advance for either conference. More info is in this conference release. Contact ISUEO beef program specialist Joe Sellers for details.
August
A Sept. 17 grazing management field day near Melrose hosted by Iowa Learning Farms and the Cooper Creek Watershed Project will feature ISUEO beef program specialist Joe Sellers talking about grassland management for beef producers. Craig Foster from NRCS and field day host farmer Charles Moore also will present at the event. No charge, but anyone wishing to attend is encouraged to RSVP to ensure an accurate meal count. See the event flier for details, including directions to farm, how to RSVP and updates on the watershed program.
This year's Van Buren County Pasture Walk focuses on baleage. The event is set for Wednesday, Sept. 16 starting at 5:30 p.m. at the Van Buren County Fairgrounds in Keosauqua. Read more about the event and register soon to ensure adequate meal arrangements. Cost is just is $5 per person and includes the evening meal.
Silage is the focus of the latest E-Dairy News and Views from ISU Extension and Outreach's dairy team. Read this issue where articles explain how to make and harvest quality silage and when to use innoculants. Sign up for the newsletter on the team's website.
A Master Hoof Care workshop is set for Sept. 10 at the ISU Armstrong Research Farm near Lewis. Dr. Jan Shearer from the ISU College of Veterinary Medicine is the featured speaker of the one-day program which is designed for a limited number of participants.
Livestock producers who want to enhance their grazing management skills should plan to attend one of four Serious Graziers workshops held by Iowa State University Extension and Outreach across Iowa next month.
July
New IBC program specialist Erika Lundy is excited to put her education and experience to work for Iowa beef producers.
The second session in a three-part series for young and beginning graziers in southern Iowa is set for Aug. 6. Iowa State University (ISU) Extension beef program specialist Pat Wall said this free event will feature a pasture walk and discussion format on a Knoxville farm.
The 2015 Applied Reproductive Strategies in Beef Cattle Symposium (ARSBC) will be hosted by the Department of Animal Science at the University of California, Davis, on Aug. 17-18.The symposium is sponsored by the Beef Reproduction Task Force, a multi-state extension activity in cooperation with the North Central Agricultural and Natural Resources Program Leaders Committee and and the Cooperative State Research, Education and Extension Service. Garland Dahlke of the Iowa Beef Center is an Iowa State representative to the task force.
The annual fall field day of the Iowa State University McNay Memorial Research Farm is set for Tuesday, Aug. 4. The educational program will focus on grazing opportunities, including cover crops, alfalfa plots and fescue renovation.
Frequent rains in Iowa this summer have become a challenge for hay producers planning to mow, bale and store hay. It's important to recognize the impact that rain can have on hay, and understand how to deal with rain-related issues.
A four-day bus trip to southwest Iowa and north central Nebraska next month will offer Iowa beef producers the opportunity to tour innovative beef operations and visit with successful producers and researchers.
Properly preparing for hot and humid weather conditions is vital to maintaining your beef cattle herd health.Iowa State University Extension and Outreach beef veterinarian Grant Dewell has five steps to follow.
ISU is seeking research preproposals for tracking water quality progress through a partnership effort. The 2015 Iowa Legislature approved, and Governor Branstad signed, legislation funding the effort for three years. ISU's request for preproposals will fund up to $250,000 per year. These preproposals will focus on demonstrated expertise and capability for data collection and verification of agricultural practices at the field level, with a deadline of July 15. See more information, including full proposal invitations and decision timelines, in a ISU CALS news release.
The Iowa Department of Natural Resources has changed its 24/7 Environmental Emergency phone number. The new number is 515-725-8694 and should be used to report manure, fertilizer or chemical spills, as well as fish kills and other environmental emergencies. If you're not sure who should use this emergency number, check the IDNR website's Environmental Reporting Hotline Guide.
June
May
April
Two beef management workshops in southern Iowa are set for May 19 and 20. Speakers from Iowa State and University of Nebraska will focus on beef cow replacement, cow-calf drylot production research and tall fescue. Pay for dinner buffet on arrival, no additional cost for workshop. Locations are Mount Pleasant and Winterset. See more info in this release.
The 2015 Applied Reproductive Strategies in Beef Cattle Symposium (ARSBC) will be held August 17 and 18 on the campus of the University of California -- Davis. Garland Dahlke is ISU's representative on the Beef Reproduction Task Force which sponsors the event.
Veterinary practitioners who work with cattle are invited to attend the 2015 "Update for Veterinarians" event on Wednesday, May 20 at the Iowa State McNay Research Farm near Chariton. Sponsored by Iowa Beef Center, the daylong program offers info on beef herd management, genetics, bull fertility and more. Registration is $60 each by May 15 and includes lunch and six hours of continuing education credit. The program brochure has details and a registration form.
Most of the 2014 ISU Research Farms Progress Reports are now available online. The exceptions are: McNay, Agricultural Engineering and Agronomy Research Farms, Central Iowa Farms, and the BioCentury Farm, all of which will be posted by the end of this month. Go here and choose any of the farms listed.
The Estrus Synchronization tool has been updated to v15 and is now available for free download on the IBC website. See more information, including "how to use" videos and a link to register for the program.
March
Purdue University economist Michael D. Boehlje will present a webinar, "Managing your farm business in an economic downturn" on Tuesday, March 31. Register now for the free event that begins at 10 a.m. central time.
ISU cow-calf specialist Patrick Gunn describes the value of serum-based colostrum replacers and supplements for Progressive Cattleman website.
Farmers: USDA - SARE wants your opinions on cover crops, regardless of whether you use them. The short online survey is available until March 27 and those who complete the questionnaire are eligible for a drawing for one or two $100 Visa gift cards. Results to be released this summer will help growers, researchers, agricultural advisors, ag retailers and policymakers more effectively address questions about cover crops and learn about best practices. This release has more info and a link to the survey.
February
Genex and Iowa State University will hold two AI classes at Iowa State University Farms in March. The first runs from March 16 (9 a.m.) to March 18 (noon) and will be filled first if possible. The second runs from March 18 (1 p.m.) to March 20 (4 p.m.) Cost is $350 per person for these beef and dairy AI classes, and participants must make their own lodging arrangements. To register please contact ISU's David Bruene by email at dbruene@iastate.edu or by phone at 641-750-6751. For other questions, contact Adam Koppes at Genex by email at akoppes@crinet.com or by phone at 563-590-8470.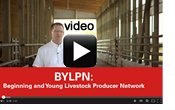 The Beginning and Young Livestock Producer Network (BYLPN) program offers species-specific information and educational opportunities for young Iowa livestock producers. In this short video, ISU Extension and Outreach beef program specialist Patrick Wall describes the program and how new and established farmers can benefit through their participation.
Since the first phase of Heifer Development Clinic in 2012, IBC faculty and staff have provided beef cow producers with information on technology and making better management decisions. More than 600 people representing 51,000 beef cows attended at least one meeting of Heifer Development series I and/or II, and they've reported increased economic benefits and implementation of reproductive and genetics best management practices, and have been able to affordably expand their cow herd. Read more in this article on the ANR website.
January
Cow-calf producers are invited to genetic selection and genomics meetings offered through Iowa Beef Center. Choose any of four locations to attend at no cost, but be sure to preregister to reserve your meal. Read about speakers, topics, locations and times.
Iowa State University (ISU) Extension and Outreach and the University of Nebraska—Lincoln are teaming up to offer a Feedlot Roundtable session at four Iowa locations on Thursday, Feb. 12. Focus is on feeding dairy beef with presenters from ISU, UNL and Michigan State University. Pay the $10 at the door, but please preregister by Feb. 10.
Iowa Beef Center's newly released "Cattle Bidder" app for Android can help cattle feeders, order buyers and bankers determine maximum bids on feeder cattle purchases.
A series of facility workshops designed for feedlot producers will offer an overview of facility types, advantages and disadvantages, with a goal of better-informed decision-making by those who attend. With a limit of 30 per site, register soon for one of the 11 locations with dates of mid-February through late March.
Cow-calf producers are invited to learn how to use information in semen and bull sale catalogs most effectively in their operations. IBC is cooperating with Select Sires and Agrarian to offer seven free clinics in Iowa.
A new series of six fact sheets on changes in coproducts and the subsequent effects on nutritional and economic value for beef cattle is now available from IBC. Each fact sheet provides specific relevant updated information on these changes and suggestions on how producers can effectively use the new products.
The Cornbelt Cow-Calf Conference has provided timely, accurate and important information to Iowa's beef cattle industry for more than 40 years. At the Jan. 31 event, you now can get that information for free according to Iowa State University Extension and Outreach beef program specialist Patrick Wall.
Featured presenters will address cattle health and profits in the beef industry at the Driftless Region Beef Conference in Dubuque Jan. 22-23. Early registration fee of $85 per person ends at midnight, Jan. 14, so sign up now.