Winter Cow Webinar Series
Dec. 2019 - March 2020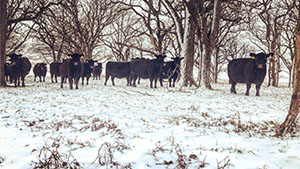 Join us for any or all of our Iowa Beef Center Winter Cow Webinar sessions. Multiple sites across the state will host a viewing location, or you can join a session from your own computer.
All sessions will be held from 6 to 8 p.m. The series dates and topics follow, with speakers announced closer to the webinar. Additional host locations for individual sessions will be added as they are confirmed.
Dec. 11, 2019, Winter feeding management
Jan. 22, 2020, Preparing for calving season
Feb. 18, 2020, Market trends and monitoring cow herd profitability
March 10, 2020, Pasture renovation and forage management
Please preregister online at least two days ahead of each session by calling your host location or completing the online registration form. There is no cost to attend an in-person viewing location or to participate on your own computer or device.
Before joining a scheduled webinar, please review this short, three-step process for joining the session.

Specific viewing locations are based on ISU extension beef specialist areas of the state and Iowa State University in Ames. Questions? Ask your beef specialist.
December 11, 6 to 8 p.m. - Winter feeding management (See the flyer.)
Webinar recording (1:08:50; Dr. Garland Dahlke begins at 0:00:28; Dr. Katy Lippolis begins at 0:35:00)
January 22, 2020, 6 to 8 p.m. - Preparing for calving season (See the flyer.)
Webinar recording (1:19:46; Dr. Grant Dewell begins at 0:00:30; Dr. Chris Clark begins at 0:43:38)
February 18, 2020, 6 to 8 p.m. - Market trends and monitoring cow herd profitability (See the flyer.)
Webinar recording (1:34:13; Denise Schwab begins at 0:01:00; Dr. Lee Schulz begins at 0:44:11)

Webinar recording (1:40:56; Rebecca Vittetoe begins at 0:01:04; Jeff Mathias begins at 0:40:29; Dr Adam Janke begins at 1:16:16)
The Iowa Beef Center at Iowa State University was established in 1996 with the goal of supporting the growth and vitality of the state's beef cattle industry. It comprises faculty and staff from Iowa State University Extension and Outreach, College of Agriculture and Life Sciences and College of Veterinary Medicine, and works to develop and deliver the latest research-based information regarding the beef cattle industry. For more information about IBC, visit www.iowabeefcenter.org.