Silage for Beef Cattle Conference - June 14, 2018

note: pdf files open in new window/tab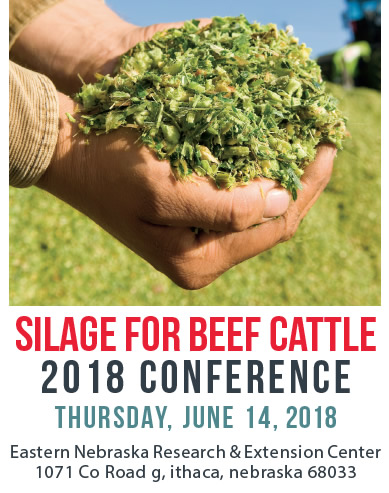 Iowa Beef Center, Lallemand Animal Nutrition and University of Nebraska Extension to offer a one-day conference focused on one of the largest components of many beef producers' bottom line: silage. The 2018 Silage for Beef Cattle Conference was held on June 14 at the Eastern Nebraska Research and Extension Center near Mead.
Videos from the welcome and all 10 presenter sessions, as well as the conference proceedings

, are available on the UNL website.
View a video of the entire conference. (0:7:21:51)
Download the conference flyer with program details
Read the news release
Sponsored by Lallemand Animal Nutrition, University of Nebraska Extension, Iowa Beef Center. Held at the Eastern Nebraska Research & Extension Center 1071 Co Road G, Ithaca, Nebraska 68033.
Contacts:
Galen Erickson, C220 Animal Science, Lincoln, NE 68583, 402-472-6402, gerickson4@unl.edu
Dan Loy, 313E Kildee Hall, Ames, IA 50011, 515-294-1058, dloy@iastate.edu