Two Advanced Calving Clinics Planned for Eastern Iowa

note: pdf files open in new window/tab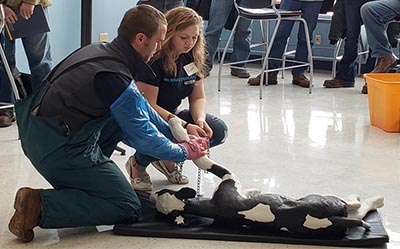 1/2/2020
VINTON, Iowa — Dairy and beef producers are invited to attend one of two advanced calving clinics in mid-February in Edgewood and Dysart. Iowa State University Extension beef specialist Denise Schwab said anyone who attends will learn something new at the clinic regardless of experience with calving out cows.
"These clinics will provide both classroom and hands-on activities presented by Iowa State faculty and private industry veterinarians," she said. "Classroom topics include nutrition and management for late gestation and early lactation, and neonatal calf care. Hands-on sessions include handling dystocia, including first aid and emergency care."
Caramel, the life-size tabletop cow model, will be used to demonstrate various techniques to help ease calving difficulties and increase live calves. Both clinics will be held on Monday, Feb. 17. The first will be from 9:30 a.m. to 2 p.m. in Edgewood at the Edgewood Event Center, 303 N Washington St. The second will run from 5 to 10 p.m. in Dysart at the Dysart Community Building, 418 Main St.
Presenters, their affiliations and topics are below.
Classroom segments:
Dr. Katy Lippolis, Iowa State assistant professor and extension cow-calf specialist: Challenges of beef cows surrounding calving, and using nutrition and management to ensure healthy calves, successful rebreeding rates and improved performance.
Dr. Grant Dewell, Iowa State extension beef veterinarian and associate professor: Neonatal calf care, including colostrum management, first-day care and vaccine protocols.
Hands-on segments:
Dr. Caitlyn Wiley, Iowa State clinical assistant professor: Tips and tricks to ease calving and demonstration of techniques to simplify pulling malpresentations to result in more live calves, both with the aid of Caramel.
Dr. Mark Houser from the Edgewood Veterinary Clinic will present at Edgewood and Dr. Nicole Knaack from the North Tama Veterinary Clinic will present at Dysart. They will discuss and demonstrate ways to provide first aid to both cow and calf around time of delivery, and share information on providing emergency care before a vet can arrive to help ensure a healthy start and reduce fresh cow incidences.
Registration is just $20 thanks to the generous support of Westway Feed Products; Benton, Clayton, Delaware and Tama County Extension; Benton County Cattlemen and Tama County Cattlemen; and Iowa Beef Center. Please preregister by Feb. 13 by calling the Benton County Extension office at 319-472-4739. See the program flyer for details.
-30-
The Iowa Beef Center at Iowa State University was established in 1996 with the goal of supporting the growth and vitality of the state's beef cattle industry. It comprises faculty and staff from Iowa State University Extension and Outreach, College of Agriculture and Life Sciences and College of Veterinary Medicine, and works to develop and deliver the latest research-based information regarding the beef cattle industry. For more information about IBC, visit www.iowabeefcenter.org.
Contact:
Denise Schwab, Iowa State University Extension beef specialist, 319-721-9624, dschwab@iastate.edu