Alternative Grazing Management Field Day Set in Marion County

note: pdf files open in new window/tab
5/7/2021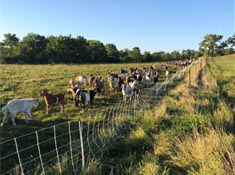 KNOXVILLE, Iowa – High grain prices will certainly put pressure on hay and forage availability across the upper Midwest. On June 8, Iowa State University Extension and Outreach will host a field day in rural Marion County addressing several alternatives to traditional forage management. The meeting is open to the public, and a free steak sandwich dinner will be provided to all who preregister. There is no fee for this event, thanks to sponsorship from the Iowa Forage and Grassland Council (IFGC.)
Iowa State University extension beef specialist and meeting host Patrick Wall said topics will include using goats for weed and brush management, placing alfalfa hayfields in a grazing rotation, and utilizing summer annuals in an annual forage plan. Attendees also will hear from the team at Goats On the Go – County Line, learning how they rotate the 200+ head of goats through the problem areas of the farm.
"We were battling thistles, multiflora rose, and locust saplings where we couldn't get with a sprayer. The goats have done an excellent job of clearing that ground without eating what the cows like," Wall said.
Attendees will look at an aging alfalfa stand used in a grazing rotation, how to avoid bloat risk and successfully transition cows to a legume-rich diet.
"We felt like we couldn't afford to take acres out of production for an entire year to re-seed, so we turned the cows out in it," Wall said. "We were nervous, but the results were far better than we ever thought they'd be."
Finally, participants will tour an oats-clover mix seeded down this spring for a summer annual forage source. Depending on the weather and markets, this field will be hayed then cropped, grazed as a drought buffer, or transitioned into permanent pasture.
Preregister for this meeting, to be held at PAW Livestock, LLC, 822 75th Ave, Pleasantville, by contacting Lydia Dingeman at the Marion County Extension Office at 641-842-2014. See the event flyer.
-30-

The Iowa Beef Center at Iowa State University was established in 1996 with the goal of supporting the growth and vitality of the state's beef cattle industry. It comprises faculty and staff from Iowa State University Extension and Outreach, College of Agriculture and Life Sciences and College of Veterinary Medicine, and works to develop and deliver the latest research-based information regarding the beef cattle industry. For more information about IBC, visit www.iowabeefcenter.org.
Contact:
Patrick Wall, ISU Extension and Outreach beef specialist, 515-450-7665, patwall@iastate.edu