Precision Livestock Technology is Focus of 2021 BIF Symposium General Session

note: pdf files open in new window/tab
6/15/2021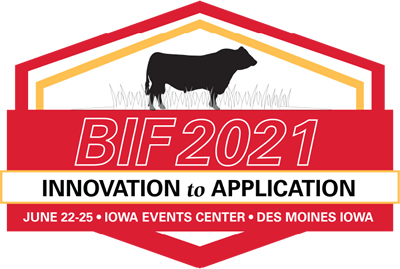 DES MOINES, Iowa – Cutting edge technology in cattle operations takes center stage during the second general session of the 2021 Beef Improvement Federation Research Symposium and Convention. The theme of this morning session is Precision Livestock Technology and features two speakers and a producer panel.
"Technological advancements continue to enter the cattle industry at a rapid rate, and this session will expose producers to some of the real world applications of precision ag in livestock," said Beth Reynolds, Iowa State University extension program specialist and a member of the planning committee.
Dr. Alison Van Eenennaam of UC Davis Animal Genomics and Biotechnology, an expert on gene editing processes and potential in livestock, will kick off the session with her presentation on gene editing today and in the future. The second speaker is Justin Sexten, vice president of strategy at Precision Livestock Analytics, who will talk about the role of technology in the beef industry.
A conference session highlight for producers will be the livestock technologies producer panel discussion. Attendees will hear from panelists who have implemented technologies such as virtual fencing and behavior-monitoring ear tags, and can ask questions of those producers about their experiences.
The 2021 BIF Research Symposium and Convention will be held June 22-25 at the Iowa Events Center in Des Moines. All schedule and registration information is available on the event website.
-30-

The Iowa Beef Center at Iowa State University was established in 1996 with the goal of supporting the growth and vitality of the state's beef cattle industry. It comprises faculty and staff from Iowa State University Extension and Outreach, College of Agriculture and Life Sciences and College of Veterinary Medicine, and works to develop and deliver the latest research-based information regarding the beef cattle industry. For more information about IBC, visit www.iowabeefcenter.org.
Contact:
Beth Reynolds, ISU Extension and Outreach beef program specialist, 515-294-9881, bethr@iastate.edu
Writer:
Sherry Hoyer, Iowa Beef Center, 515-294-4496, shoyer@iastate.edu