2020 Beef Feedlot Short Course Registration is Now Open


note: pdf files open in new window/tab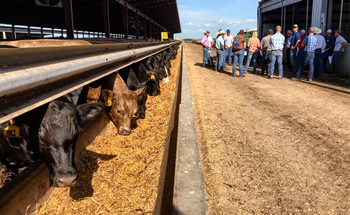 7/10/2020
AMES, Iowa – The 2020 version of the Beef Feedlot Short Course, organized and hosted by Iowa Beef Center at Iowa State University, is set for Aug. 11-13 at the Hansen Agriculture Student Learning Center in Ames. Iowa State Extension beef specialist Erika Lundy said the goal of the event is to optimize participant learning through exposure to new technology, research and best management practices, and the best way to accomplish this is in a small group setting with a mix of hands-on and classroom instruction.
"Since the first of these short courses in 2017, we have had a limit of 30 participants to ensure plenty of hands-on and small group classroom learning opportunities for all attendees," she said. "This approach has allowed us to plan for 2020 in the same fashion without needing to drastically adjust our schedule, speakers or topics."
The event will follow State of Iowa and Iowa State University guidelines to ensure health and safety of all participants. This includes implementing safe practices such as social distancing, wearing face coverings when the 6-ft. separation distances are not possible, and using small groups for hand-on activities. Additionally, nearly half of the program is on-farm, providing well-ventilated areas.
Sessions will also be at the Iowa State Beef Nutrition Farm and Couser Cattle Company in Nevada, Iowa.
The program runs from 12:30 p.m. on Tuesday, Aug. 11 through noon on Thursday, Aug. 13. For questions on the short course content, contact Lundy at ellundy@iastate.edu or IBC director Dan Loy at dloy@iastate.edu.
The short course is designed specifically for feedlot managers, employees and industry, and past attendees have appreciated that focus. Participant comments from post-event surveys on what they liked best about the program include: "Perfect group size, great place to learn, loved every day of this program," "Great job of covering many important topics at a good level of detail," and "Good mix of class and farm time."
2020 short course topics include:
Bunk management and the basics of starting cattle on feed.
Feed mixing demonstration and evaluation.
Managing and identifying cattle health issues in the feedlot.
Facility design and cattle handling.
Data management.
This year's presenters are:
Bill Couser, Couser Cattle Company, Nevada, Iowa
Dr. Garland Dahlke, associate scientist, Iowa Beef Center, Iowa State University
Dr. Terry Engelken, associate professor, Veterinary Diagnostic and Production Animal Medicine, Iowa State University
Shane Jurgensen, Couser Cattle Company, Nevada, Iowa
Dr. Dan Loy, director of the Iowa Beef Center and extension beef specialist, Iowa State University
Erika Lundy, Iowa State extension beef specialist, Iowa Beef Center
Dr. Robbi Pritchard, feedlot consultant, Aurora, South Dakota
Dr. Dan Thomson, animal science department chair, Iowa State University
Dr. Grant Dewell, beef veterinarian, Iowa State University Extension and Outreach
The $350 per person registration fee includes program materials and meals listed on the agenda. The registration deadline is midnight, August 4 or when the course limit of 30 is reached, whichever occurs first. All registrations must be done by online registration .
See the short course website for registration information, requirements, and links at http://www.aep.iastate.edu/feedlot.
Participants are responsible for making their own lodging arrangements, if needed. A block of rooms is available at Comfort Inn & Suites ISU – 603 S 16th Street, Ames (515-663-9555) or https://www.choicehotels.com/reservations/groups/GJ90L8.
"We will strive to keep participants as safe as possible, and that includes a "no questions" refund policy if participants need to cancel registration for any reason," Lundy said. "We look forward to providing a fourth year of in-depth education and practical experience for our attendees."
-30-
The Iowa Beef Center at Iowa State University was established in 1996 with the goal of supporting the growth and vitality of the state's beef cattle industry. It comprises faculty and staff from Iowa State University Extension and Outreach, College of Agriculture and Life Sciences and College of Veterinary Medicine, and works to develop and deliver the latest research-based information regarding the beef cattle industry. For more information about IBC, visit www.iowabeefcenter.org.
Contacts:
Erika Lundy, ISU Extension and Outreach beef specialist, 641-745-5902, ellundy@iastate.edu
Dan Loy, IBC director and Iowa State extension beef specialist, 515-294-1058, dloy@iastate.edu
Writer:
Sherry Hoyer, Iowa Beef Center, 515-294-4496, shoyer@iastate.edu