Cattle in the Green Program Series Scheduled in Keosauqua

note: pdf files open in new window/tab
1/21/2021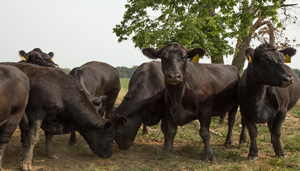 KEOSAUQUA, Iowa – A five-part series set in southeast Iowa is designed to assist with cattle producers with a new way of looking at management and economic decisions for better financial results in their operations. Iowa State University extension beef specialist Patrick Wall created the series after attending a weeklong opportunity in Colorado provided through a $3,000 professional development investment by Iowa Beef Center. He said he looks forward to sharing the knowledge and information he gained through that experience.
"In this series, you'll learn how to financially analyze your livestock/farm operation in a different way," he said. "This will help you find more profit, eliminate money pits and lower your stress level."
Fee for the series is $50 per person, to cover cost of printing the materials. To encourage participation by local farmers, Van Buren County Extension is offering scholarships to the first 10 Van Buren county residents who register and attend all five sessions. Upon completion of these requirements, the $50 registration fee will be reimbursed. Couples and business partners are encouraged to attend because gaining multiple perspectives on the cattle operation is always more powerful when planning and making decisions.
The sessions will be held on five consecutive Wednesdays beginning Feb. 24, from 5 to 8 p.m. Because of the evening time, a light meal will be served. All are set at the Robert's Memorial Building in Keosauqua. A commitment to attend all five sessions is requested because each class builds upon the information and discussion of the previous session.
See the program brochure, and be sure to register by the Feb. 19 deadline by calling the Van Buren County Extension Office at 319-293-3039 or emailing Nancy Carr at nancarr@iastate.edu.
-30-

The Iowa Beef Center at Iowa State University was established in 1996 with the goal of supporting the growth and vitality of the state's beef cattle industry. It comprises faculty and staff from Iowa State University Extension and Outreach, College of Agriculture and Life Sciences and College of Veterinary Medicine, and works to develop and deliver the latest research-based information regarding the beef cattle industry. For more information about IBC, visit www.iowabeefcenter.org.
Contact:
Patrick Wall, ISU Extension and Outreach beef specialist, 515-450-7665, patwall@iastate.edu