New Publication Offers Reminders and Resources for Cattle Care During Cold Weather

note: pdf files open in new window/tab
2/16/2021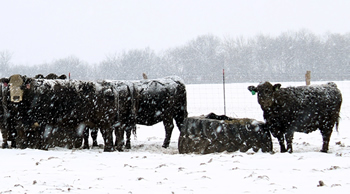 AMES, Iowa – While cold stress cannot be completely eliminated for cattle housed in typical outdoor facilities in the Midwest, a new publication from Iowa Beef Center describes management practices to reduce the impact of cold stress on your herd. Iowa State University extension beef veterinarian Grant Dewell is one of the authors. He said being prepared and knowing how to deal with extreme cold situations is vital.
"Extreme cold can be detrimental to the well-being of beef cattle herds," he said. "This four-page fact sheet provides practical management guidelines for producers on how to care for their cattle in cold weather."
The content is organized into six categories: shelter, nutrition, calving, bulls, emergency planning and transportation, and includes a list of resources at the end.
The publication, Caring for Cow Herds During Cold Weather, IBC 143 is available as a free pdf download on the Iowa State Extension Store.
-30-

The Iowa Beef Center at Iowa State University was established in 1996 with the goal of supporting the growth and vitality of the state's beef cattle industry. It comprises faculty and staff from Iowa State University Extension and Outreach, College of Agriculture and Life Sciences and College of Veterinary Medicine, and works to develop and deliver the latest research-based information regarding the beef cattle industry. For more information about IBC, visit www.iowabeefcenter.org.
Contact:
Grant Dewell, ISU Extension beef veterinarian 515-294-2822, gdewell@iastate.edu