Iowa Cow-Calf Production – Exploring Different Management Systems

note: pdf files open in new window/tab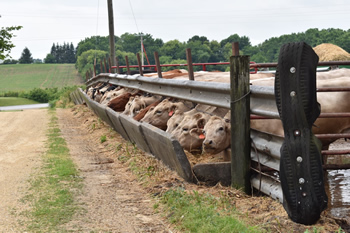 7/16/19
AMES, Iowa – Sustainable beef cow production in Iowa is becoming increasingly critical as Iowa grows its fed cattle industry and other beef markets, while at the same time looking for alternative land use on fragile acres prone to soil erosion. Competition from volatile grain prices and recreational land uses has reduced pasture and forage acres by more than 2 million acres (88% decrease) in just two decades, while beef cow numbers in the state have declined only 14% according to the U.S. Census of Agriculture. As Iowa beef producers strive to raise more cattle on fewer acres, numerous alternative management strategies are being employed.
From 2015-2018, the Iowa Beef Center at Iowa State University partnered with 28 producers across the state in the Iowa Cow Systems Project. It was designed to identify costs, environmental impacts and best practices from Iowa cow-calf operations. For the purpose of this project, participating operations were categorized into three production systems defined as follows:
Traditional grazing (grazing approximately 50% of the year).
Extensive grazing (grazing 75% or more of the year).
Limited or no grazing (grazing less than 25% of the year).
The effort worked to assess emerging beef cow management technologies, detail benchmarks, summarize production and environmental data and develop decision tools. The ultimate goals were to assist Iowa cow-calf producers across all production systems and to improve sustainability of the cow-calf segment in Iowa.
Data collected included production cost records, forage quality, feeds and rations, soil samples to review fertility, and soil loss based on land use and conservation methods implemented. Cooperator case studies were developed to demonstrate successful practices within each production system.
Project highlights included:
Total production cost per cow ranged from $615 to $2340 per year.
Operations from each system were included in the low cost third group, so individual management affected production costs more than the system.
Feed costs represented 39% of total costs and were the largest single cost of production regardless of system.
Asset ownership was the second largest production cost but varied greatly by system.
Average hay quality from 84 samples did not meet the cow's energy requirements during late gestation and lactation.
The majority of pasture samples were adequate in protein to meet requirements at all stages of production.
Mineral costs averaged $35/cow per year.
Bedding costs for limit-grazed herds averaged $75-$135/cow per year.
Pasture can be economical and competitive with surrounding states.
Pasture and forages reduce soil erosion and improve water quality.
This project was originally funded by the Leopold Center for Sustainable Agriculture and transitioned to the Iowa Nutrient Research Center. Staff time and expenses also were committed by the Iowa Beef Center and Iowa State University Extension and Outreach.
Final results of this project were recently released in publication format and are available for producers and industry representatives to request or download. The full manual and all individual segments are available on the ISU Extension Store website at https://store.extension.iastate.edu/product/15561. Print copies are free while initial supplies last. After that supply is exhausted, print copies will be available for purchase. Electronic versions can be download free of charge at any time. ISU Extension beef specialists can also answer producer questions or assist in evaluating profitability of existing beef operations.
-30-
The Iowa Beef Center at Iowa State University was established in 1996 with the goal of supporting the growth and vitality of the state's beef cattle industry. It comprises faculty and staff from Iowa State University Extension and Outreach, College of Agriculture and Life Sciences and College of Veterinary Medicine, and works to develop and deliver the latest research-based information regarding the beef cattle industry. For more information about IBC, visit www.iowabeefcenter.org.
Contacts:
Erika Lundy, ISU Extension and Outreach beef specialist, 641-745-5902, ellundy@iastate.edu
Denise Schwab, ISU Extension and Outreach beef specialist, 319-721-9624, dschwab@iastate.edu