Annual I-29 Moo University Dairy Beef Short Course to be Held Virtually

note: pdf files open in new window/tab
2/19/2021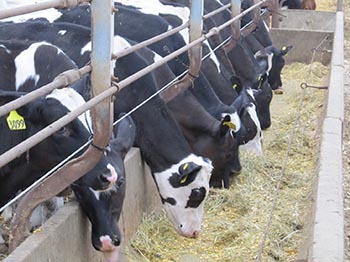 ORANGE CITY, Iowa – Industry professionals and beef producers who are finishing and marketing dairy beef are invited to virtually attend the I-29 Dairy Beef Short Course. The webinar, set for March 23, features a morning session from 10 a.m. to noon and an afternoon session from 1 to 3 p.m. Participants may choose to attend one or both sessions.
The morning session focuses on factors affecting dairy beef performance. Dr. Tara Felix, extension beef specialist at Pennsylvania State University, will present information on the role of nutrition and implants in dairy beef health and animal performance. Following her is Phil Durst, field-based educator with Michigan State University with over 30 years of experience working with farmers. He will share how dairy beef employees influence animal health and performance.
The afternoon focuses on the future of dairy beef production from a consumer lens and an economic standpoint. Bill Halfman, extension agricultural agent with the University of Wisconsin – Madison, will provide an understanding of economic factors that influence the return on investment to the operation. Rounding out the day is Lisa Scebbi, Director of Marketing at JBS USA. She will focus on how future consumer trends may optimize market opportunities for dairy beef.
Registration for the event is $25, payable through the online registration form, and must be done before March 22. The webinar session links will be sent following registration. At the conclusion of the webinar, participants will receive an electronic copy of the proceedings along with access to two recordings of the two sessions.
See more information on the I-29 Moo University website. Direct inquiries may be made to Fred Hall, ISU Extension and Outreach dairy specialist, at fredhall@iastate.edu or Beth Doran, ISU Extension and Outreach Beef Specialist, at doranb@iastate.edu, or phone 712-737-4230 to visit with either of them.
-30-

The Iowa Beef Center at Iowa State University was established in 1996 with the goal of supporting the growth and vitality of the state's beef cattle industry. It comprises faculty and staff from Iowa State University Extension and Outreach, College of Agriculture and Life Sciences and College of Veterinary Medicine, and works to develop and deliver the latest research-based information regarding the beef cattle industry. For more information about IBC, visit www.iowabeefcenter.org.
Contacts:
Fred Hall, ISU extension dairy specialist, 712-737-4230, fredhall@iastate.edu
Beth Doran, ISU extension beef specialist, 712-737-4230, doranb@iastate.edu