Feedlot Forum 2019 to Focus on Marketing

note: pdf files open in new window/tab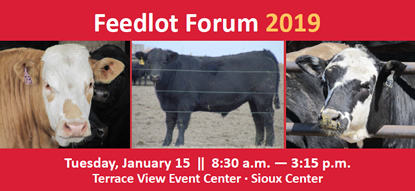 12/7/18
SIOUX CENTER, Iowa – Beef producers are in a new era of marketing with more changes rapidly coming. This new era will be the focus of Feedlot Forum 2019, set for Jan. 15 from 8:30 a.m. to 3:15 p.m. at the Terrace View Event Center in Sioux Center.
One keynote speaker in the morning session is Tom Brink, CEO of the Red Angus Association of America and founder of Top Dollar Angus, Inc. He will visit about feeder calf verification and the importance of traceability to the beef industry.
Restaurant and culinary trends are changing menus offered to patrons. Jessica Dunker, president and CEO of the Iowa Restaurant Association, will share how changes in patron palates are dictating the types of foods that will be prepared and sold in fast food, family and upscale restaurants.
Chad Hart, associate professor of economics and Iowa State Extension economist, will lead off the afternoon with a discussion on the impact of trade tariffs on the price of ag commodities including beef. Dr. Hart and the Center for Agricultural and Rural Development just completed an analysis of the impact of tariffs on soybean prices. Hart is also versed in the effect of tariffs on meats and beef by-products.
Rounding out the afternoon is Andrew Gottschalk, senior vice president for R.J. O'Brien and Associates. Currently, U.S. livestock producers have record meat supplies. Gottschalk will project how these supplies and export demand will affect cattle outlook and potential prices for beef.
Other short presentations include the roles of the Iowa Cattlemen's Association and Iowa Beef Industry Council and an update on Beef Quality Assurance and Beef Quality Assurance Transportation. This year's forum also features 25 agri-business sponsors displaying the latest products, technology and services available to beef producers.
Feedlot Forum 2019 is a collaborative effort of Iowa State University Extension and Outreach, Iowa Beef Center, Iowa Cattlemen's Association and three county cattlemen's associations – Lyon, Plymouth and Sioux.
"Previous Feedlot Forums have reached producers from 25 counties and seven states. Participants value the information presented by national speakers," said Beth Doran, beef specialist with Iowa State University.
Registration for Feedlot Forum 2019 is $25 per person with a discounted price of $10 for students. All registrations are due January 10 to the Sioux County Extension Office, 400 Central Ave. NW, Suite 700, Orange City IA 51041. For more information,
a flyer is available online
. You also can contact Doran at 712-737-4230 or
doranb@iastate.edu
.
-30-


The Iowa Beef Center at Iowa State University was established in 1996 with the goal of supporting the growth and vitality of the state's beef cattle industry. It comprises faculty and staff from Iowa State University Extension and Outreach, College of Agriculture and Life Sciences and College of Veterinary Medicine, and works to develop and deliver the latest research-based information regarding the beef cattle industry. For more information about IBC, visit www.iowabeefcenter.org.
Contacts:
Beth Doran, ISU Extension and Outreach beef specialist, 712-737-4230, doranb@iastate.edu