Feedlot Forum 2021 Returns June 29

note: pdf files open in new window/tab
5/5/2021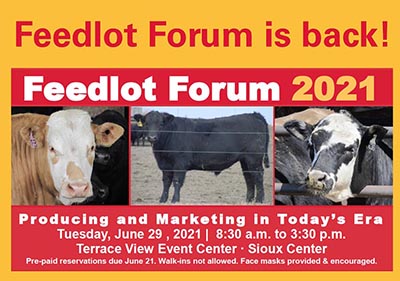 AMES, Iowa – This popular program will be at the Terrace View Event Center in Sioux Center. Built grassroots up, it focuses on issues critical to beef feedlot producers and cutting-edge technology available from agri-business professionals. This year's theme is "Producing and Marketing in Today's Era," and features the following nationally recognized speakers and their topics:
Designing and Implementing Feedlot Implant Strategies – Wes Gentry, nutritionist for Midwest PMS.
Digital Dermatitis – Old Disease, New Research – Terry Engelken, DVM with ISU Veterinary Diagnostic and Production Animal Medicine.
Managing Newly Received Calves – Dan Thomson, chair of the ISU Department of Animal Science.
Regulatory Solutions to Cattle Marketing – Panel discussion (Brad Kooima, CEO of Kooima Kooima Varilek Trading, Inc.; Matt Deppe, CEO of the Iowa Cattlemen's Association; and Cora Fox, Director of Government Relations - Iowa Cattlemen's Association).
Cattle Market Outlook: National and Iowa Perspectives – Lee Schulz, Extension livestock economist at Iowa State University.
Each topic is especially relevant. With cash corn price hovering between $6.75-7.00 per bushel, profitability is strongly affected by protocols that increase feed efficiency and optimize animal health. Market price is also key to profitability, and events, such as the Holcomb, KS fire and COVID-19 skewed prices. Consequently, the beef industry is fervent about market volatility and market transparency.
The Feedlot Forum flyer has the day's agenda, topics and speakers, and registration info.
Registration for Feedlot Forum 2021 opens May 1 and closes June 21. Participants may register on-line at https://tinyurl.com/42zx9y94 or through the traditional mail-in registration process. Registration, which is $25 per person, must be prepaid as registrations are limited.
COVID-related note:
Due to COVID, walk-ins are not allowed, and face masks will be provided and encouraged. We are trying to separate tables by 6', but will only be able to provide 3' between 5 people at the table. Other measures will be to provide hand sanitizer for each person and have the caterer serve a grilled ribeye steak sandwich along with a boxed lunch for all other food items. Breakfast will be a packaged muffin and bottle of milk. No coffee for the Forum. Doing our best to keep everyone out of the sick pen!
-30-
The Iowa Beef Center at Iowa State University was established in 1996 with the goal of supporting the growth and vitality of the state's beef cattle industry. It comprises faculty and staff from Iowa State University Extension and Outreach, College of Agriculture and Life Sciences and College of Veterinary Medicine, and works to develop and deliver the latest research-based information regarding the beef cattle industry. For more information about IBC, visit www.iowabeefcenter.org.
Contact:
Beth Doran, ISU Extension and Outreach beef specialist, 712-737-4230, doranb@iastate.edu