Fencing and Grazing Clinic Offers Technology, Tours and Tools

note: pdf files open in new window/tab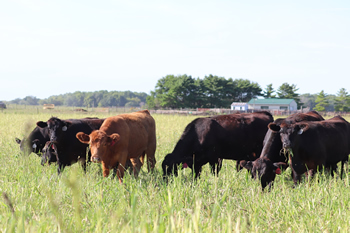 7/31/2020
AMES, Iowa – The Fencing and Grazing Clinic, organized and hosted by Iowa Beef Center, Department of Animal Science, and ISU Beef Teaching Farm at Iowa State University, is set for Sept. 9 at the Hansen Agriculture Student Learning Center in Ames. Iowa State Extension beef specialist Erika Lundy said a variety of topics, speakers and learning opportunities make this clinic a "must-attend" for anyone who works with cattle, grazing and fencing in their operations.
"Attendees of this one-day event will learn about considerations for a grazing plan, tour the ISU Beef Teaching Farm and participate in a fencing demonstration led by Gallagher on permanent and temporary fencing," she said. "Fencing laws, ISU research updates and interaction with an experienced grazier producer panel also are on the agenda."
Beef teaching farm manager David Bruene said participants will be able to see and ask about methods being tried for extending the grazing season and controlling cow costs.
"We've been experimenting with cover crops, annual forages, paddock renovation and swath grazing," Bruene said. "The on-farm sessions allow us to showcase some of what we're doing, and producers can learn from our successes and mistakes."
After registration and welcoming remarks by professor and ISU animal science department chair Dr. Dan Thomson, participants will be split into two groups and either stay at the Hansen Center or travel by bus to the beef teaching farm. Following lunch and a session on fencing law at the Hansen Center, the groups will switch tour locations for the afternoon. All will gather at the Hansen Center at 3:45 p.m. for closing remarks. The event flyer offers a quick look at topics, date, time and location, and sponsor listing.
There is no cost to attend; however, attendance is limited to the first 50 people registered. Deadline is midnight, Sept. 2. All registration must be done online on the event website at http://www.aep.iastate.edu/fencing/
Organizers are prioritizing the health and safety of Iowans and are following the most current federal, state, local, and university COVID-19 guidelines. Participants are required to wear a face covering when in the presence of others and unable to maintain a six-foot physical distance.
In addition to the program hosts, the clinic is sponsored by Gallagher, AGI, Iowa Forage and Grassland Council, Practical Farmers of Iowa, Theisen's, Barenbrug, Millborn Seeds and the Iowa Cattlemen's Association.
-30-
IBC was established in 1996 with the goal of supporting the growth and vitality of the state's beef cattle industry. It comprises faculty and staff from Iowa State Extension and Outreach, College of Agriculture and Life Sciences, and College of Veterinary Medicine, and works to develop and deliver the latest research-based information regarding the beef cattle industry. For more information about IBC, visit www.iowabeefcenter.org.
Contact:
Erika Lundy, ISU Extension and Outreach beef specialist, 641-745-5902, ellundy@iastate.edu

Writer:
Sherry Hoyer, Iowa Beef Center, 515-294-4496, shoyer@iastate.edu