New Publication Describes Basics of Low Stress Cattle Handling


note: pdf files open in new window/tab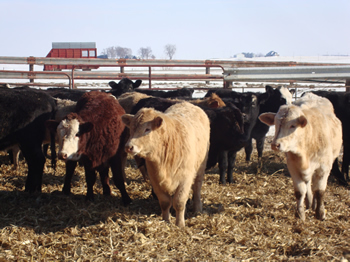 7/28/2020
AMES, Iowa – Low stress cattle handling can provide a multitude of benefits, including improved performance, animal welfare and handling efficiency. However, with a variety of techniques and approaches advocated by different experts, cattle producers may be unsure which direction to take with their own operation.
A new publication from Iowa Beef Center explains the common positive aspects of these systems which are basic to understanding cattle responses regardless of system.
Iowa State University Extension and Outreach beef veterinarian Grant Dewell authored the publication along with Suzanne Millman and Rebecca Parsons of ISU's veterinary diagnostic and production animal medicine department, and Renee Dewell with the Center for Food Security and Public Health at Iowa State.
"Low stress cattle handling is important to improve the welfare of cattle, handling efficiency and consumer confidence," he said. "Understanding the natural behavior of cattle is important to being able to introduce low stress cattle handling and to identify challenges in current facilities that make handling difficult."
The four-page document provides an overview of the natural behavior of cattle and describes general principles of handling cattle. The section on facilities includes two simple designs used most commonly for low stress cattle handing. The information and awareness are helpful for all ages of cattle and types of operation.
The publication IBCR 0206 is available as a free pdf file on the Iowa State Extension Store.
-30-
The Iowa Beef Center at Iowa State University was established in 1996 with the goal of supporting the growth and vitality of the state's beef cattle industry. It comprises faculty and staff from Iowa State University Extension and Outreach, College of Agriculture and Life Sciences and College of Veterinary Medicine, and works to develop and deliver the latest research-based information regarding the beef cattle industry. For more information about IBC, visit www.iowabeefcenter.org.
Contact:
Grant Dewell, ISU Extension beef veterinarian 515-294-2822, gdewell@iastate.edu 
Writer:
Sherry Hoyer, Iowa Beef Center, 515-294-4496, shoyer@iastate.edu