Southern Iowa Field Day will Feature Grazing Cover Crops

note: pdf files open in new window/tab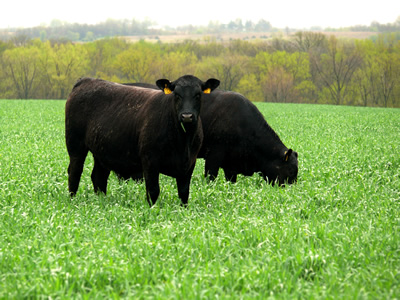 3/28/18
AMES, Iowa – Integrating cover crops into a row crop system can be a challenge, especially when utilizing the cover crop as a forage resource. Beef producers interested in learning how Iowa State University research is helping producers capitalize on the added forage from cover crops can provide should plan to attend a southern Iowa field day on Tuesday, April 24.
Erika Lundy, extension beef program specialist with the Iowa Beef Center, said the field day will be held at the Iowa State McNay Farm from 1 to 3:30 p.m., preceded by registration and a light meal starting at 12:30 p.m. The farm is located at 45249 170th Ave, Chariton.
"The program begins in the classroom with Iowa State Extension and Outreach beef specialists Joe Sellers and Chris Clark discussing various cover crop species and their nutritional value to cattle," Lundy said. "They'll also talk about some toxicity concerns producers should be aware of when grazing cover crops, and then, weather permitting, the group will move out into the field to see cattle grazing cereal rye."
The event will highlight an ongoing research project evaluating cattle performance while grazing cover crops as well as subsequent impacts of grazing on the soil.
Iowa State Extension and Outreach agronomy field specialist Rebecca Vittetoe said she and Lundy will describe and lead discussion on the preliminary results of the project.
"We'll explain how management of row crop acres might be different when we plan to graze cover crops opposed to just seeding cover crops for conservation purposes," Vittetoe said. "We'll also discuss cover crop seeding and termination methods."
The field day is free and open to the public thanks to the sponsorship of Iowa State Extension and Outreach, IBC, and Iowa Nutrient Research Center. See the event flyer.
Those planning to attend are asked to RSVP no later than April 23 to ensure an accurate meal count. To RSVP, please contact the Lucas County Extension Office by phone at 712-423-2171 or email Joe Sellers at sellers@iastate.edu.
-30-
The Iowa Beef Center at Iowa State University was established in 1996 with the goal of supporting the growth and vitality of the state's beef cattle industry. It comprises faculty and staff from Iowa State University Extension and Outreach, College of Agriculture and Life Sciences and College of Veterinary Medicine, and works to develop and deliver the latest research-based information regarding the beef cattle industry. For more information about IBC, visit www.iowabeefcenter.org.

Contacts:
Erika Lundy, extension beef program specialist, 515-294-9881, ellundy@iastate.edu
Rebecca Vittetoe, extension agronomy field specialist, 319-653-4811, rka8@iastate.edu