McNay Research Farm Field Day Brings Latest Info to Beef Cattle Producers

note: pdf files open in new window/tab
7/14/2021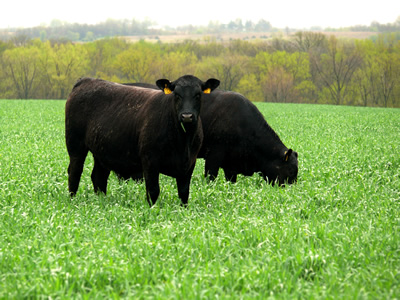 CHARITON, Iowa – Iowa State University is hosting a field day on Aug. 3 at the McNay Memorial Research and Demonstration Farm near Chariton. The event will begin at 3:30 p.m. and will include a grilled burger dinner served by the Lucas County Cattlemen. There will be several presentations about ongoing research projects including both classroom and in-field discussion. 
Iowa State University extension beef specialist Chris Clark is coordinating the event and said it is open to the public and should be of interest to anyone interested in agriculture and beef cattle production.
"We are excited about offering face to face programming and the opportunity to highlight the applied research being done on the farm," he said.
Several ISU Extension and Outreach specialists will be present to discuss research projects and the McNay Farm managers will be present to provide an overview of the farm and the cow herd.  Discussion topics include an annual forage project, a pinkeye vaccination trial, creep feeding and mineral intake studies using a Super SmartFeed system, and on-farm crop production trials evaluating soybean date of planting, nitrogen-fixing bacteria, and the use of humic acid. The schedule, speaker and topic list and directions to the farm are available on the event flyer.
The program will begin at 3:30 p.m. and will include dinner. This event is free and open to the public, but preregistration is encouraged to help organizers with planning. Please preregister by Aug. 1 by calling the Lucas County Extension Office at 641-774-2016.  For more information contact the McNay Farm at 641-766-6465 or Clark at 712-250-0070 or by email at caclark@iastate.edu.
-30-

The Iowa Beef Center at Iowa State University was established in 1996 with the goal of supporting the growth and vitality of the state's beef cattle industry. It comprises faculty and staff from Iowa State University Extension and Outreach, College of Agriculture and Life Sciences and College of Veterinary Medicine, and works to develop and deliver the latest research-based information regarding the beef cattle industry. For more information about IBC, visit www.iowabeefcenter.org.
Contact:
Chris Clark, Iowa State University Extension beef specialist, 712-250-0070, caclark@iastate.edu