Pasture Walks Set in Story and Monroe Counties

note: pdf files open in new window/tab
6/16/2021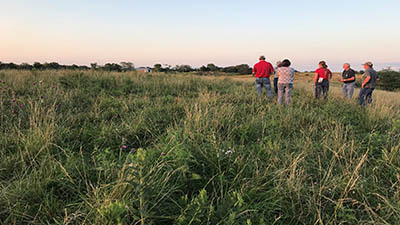 AMES, Iowa – Pasture walks provide real time looks at plant growth, weed control and water management tools, all of which are important to beef operations using pasture grazing. Iowa State University extension beef specialist Chris Clark has organized two of these walks, one each in Story and Monroe counties, and said they're for anyone interested in learning more about pasture management, pasture watering systems and cattle grazing. Both are open to the public at no cost, although preregistration is encouraged to assist with planning.
The Story county pasture walk is set for June 29 at the Whitaker Ranch, 26466 Sandhill Trail, Ames It begins at 6 p.m. and is expected to last at least an hour. Iowa State extension crop specialist Meaghan Anderson will talk about agronomic aspects of forage production such as soil fertility and weed control. Clark will share info on grazing systems and pasture management.
"I am excited for the opportunity to do some face to face programming and, of course, I'm thankful to our hosts for allowing us to visit their pasture," he said. "This is an interesting site in terms of soil type and overall environment so I anticipate some really good discussion." 
Please preregister for this location by June 25 by calling the Story County Extension Office at 515-337-1601. 
The Monroe county pasture walk will be held July 8 at Sue Henderson's farm northwest of the Georgetown St. Patrick's Church just off of 170th Street, and runs from 6:30 p.m. to at least 7:30 p.m. Clark will discuss grazing systems and pasture management and Iowa State extension ag engineer Kristina TeBockhorst will discuss pasture watering systems. A third extension specialist also might be in attendance.
"We are in the process of hiring a new extension agronomist for south central Iowa and hopefully she will be in attendance to meet area producers and offer comments about agronomic aspects of forage production," Clark said.
Please preregister for the Monroe county location by July 5 by calling the Monroe County Extension Office at 641-932-5612. Note: there are no restroom facilities at this farm, so please plan accordingly.
For more information, contact Clark at 712-250-0070 or caclark@iastate.edu
-30-

The Iowa Beef Center at Iowa State University was established in 1996 with the goal of supporting the growth and vitality of the state's beef cattle industry. It comprises faculty and staff from Iowa State University Extension and Outreach, College of Agriculture and Life Sciences and College of Veterinary Medicine, and works to develop and deliver the latest research-based information regarding the beef cattle industry. For more information about IBC, visit www.iowabeefcenter.org.
Contact:
Chris Clark, DVM, Iowa State University Extension beef specialist, 712-250-0070, caclark@iastate.edu