Winter Cow Webinar Series Offers Convenient Viewing Options

note: pdf files open in new window/tab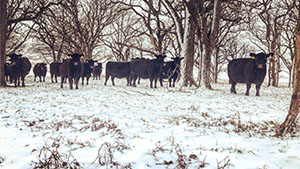 12/3/19
AMES, Iowa – Beef cow-calf producers recognize the importance of staying informed on all aspects of their operation, and a new four-part webinar series from Iowa Beef Center will help them do just that.
Iowa State University extension program specialist Beth Reynolds said the series is intended to provide timely topics for beef cow management and the opportunity to access the information when it's convenient for them, even if that means they cannot attend a meeting in person. The first session of this series is set for Wed., Dec. 11, and focuses on winter feeding management.
"The weather pattern of 2019 has created several challenges for putting up hay, corn silage and other forage resources in ideal condition," Reynolds said. "Producer data from our recent Iowa Beef Center Cow Systems Project demonstrated that approximately 40 percent of total production costs were devoted to stored feed costs, and since we can't control the markets, focusing on controlling feed costs is really important to the profitability of the beef cow enterprise."
The purpose of improving feed management is to improve costs without sacrificing performance, and the Cow Systems Project manual provides a good reference for those costs. Producers interested in learning more can access the Cow Systems Project manual on the Iowa State Extension store https://store.extension.iastate.edu/product/15561 for more information.
Speakers will share information on assessing feed quality and determining nutritional management strategies of beef cows as cows enter the third trimester of gestation. Garland Dahlke, IBC associate scientist, will present "Winter Feed: Considering the Feed Quality Forecast" and Katy Lippolis, assistant professor of animal science at Iowa State, will talk on "Winter Nutritional Management for Beef Cows."
The webinar is available for viewing at home and at several host sites throughout the state. Area beef specialists will be at host sites to facilitate further discussion following each webinar. Local discussions may include local feed quality issues and ration needs specific to individual producers.
There is no cost to attend an in-person location or to view the webinar at home, but you are encouraged to preregister for both options by either calling your preferred host location or completing the online registration form for access information for home viewing. Walk-ins for in-person locations are welcome. Plans are to record each webinar and provide links to those recordings when they're available. Before joining a scheduled webinar, please review this short, three-step process for joining the session.
The list of webinar dates and topics follows. All sessions will be held from 6 to 8 p.m.
Dec. 11, Winter feeding management (See the flyer)
Jan. 22, 2020, Preparing for calving season
Feb. 18, 2020, Market trends, tracking and improving profitability
March 10, 2020, Pasture renovation, forage management
See the webinar series program page for additional information and links to archived recordings.
-30-
The Iowa Beef Center at Iowa State University was established in 1996 with the goal of supporting the growth and vitality of the state's beef cattle industry. It comprises faculty and staff from Iowa State University Extension and Outreach, College of Agriculture and Life Sciences and College of Veterinary Medicine, and works to develop and deliver the latest research-based information regarding the beef cattle industry. For more information about IBC, visit www.iowabeefcenter.org.
Contact:
Beth Reynolds, extension program specialist, 515-294-9881, bethr@iastate.edu