News from Iowa Beef Center
ISU cow-calf specialist Patrick Gunn describes the value of serum-based colostrum replacers and supplements for Progressive Cattleman website.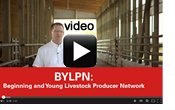 The Beginning and Young Livestock Producer Network (BYLPN) program offers species-specific information and educational opportunities for young Iowa livestock producers. In this short video, ISU Extension and Outreach beef program specialist Patrick Wall describes the program and how new and established farmers can benefit through their participation.
Since the first phase of Heifer Development Clinic in 2012, IBC faculty and staff have provided beef cow producers with information on technology and making better management decisions. More than 600 people representing 51,000 beef cows attended at least one meeting of Heifer Development series I and/or II, and they've reported increased economic benefits and implementation of reproductive and genetics best management practices, and have been able to affordably expand their cow herd. Read more in this article on the ANR website.
Iowa Beef Center's newly released "Cattle Bidder" app for Android can help cattle feeders, order buyers and bankers determine maximum bids on feeder cattle purchases.
See these resource pages (Sources and resources are added as they are available.)
Flood resources
Water management and drought resources
ISU Extension and Outreach resources