News from Iowa Beef Center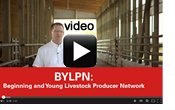 The Beginning and Young Livestock Producer Network (BYLPN) program offers species-specific information and educational opportunities for young Iowa livestock producers. In this short video, ISU Extension and Outreach beef program specialist Patrick Wall describes the program and how new and established farmers can benefit through their participation.
Genex and Iowa State University will hold two AI classes at Iowa State University Farms in March. The first runs from March 16 (9 a.m.) to March 18 (noon) and will be filled first if possible. The second runs from March 18 (1 p.m.) to March 20 (4 p.m.) Cost is $350 per person for these beef and dairy AI classes, and participants must make their own lodging arrangements. To register please contact ISU's David Bruene by email at dbruene@iastate.edu or by phone at 641-750-6751. For other questions, contact Adam Koppes at Genex by email at akoppes@crinet.com or by phone at 563-590-8470.
Since the first phase of Heifer Development Clinic in 2012, IBC faculty and staff have provided beef cow producers with information on technology and making better management decisions. More than 600 people representing 51,000 beef cows attended at least one meeting of Heifer Development series I and/or II, and they've reported increased economic benefits and implementation of reproductive and genetics best management practices, and have been able to affordably expand their cow herd. Read more in this article on the ANR website.
Iowa Beef Center's newly released "Cattle Bidder" app for Android can help cattle feeders, order buyers and bankers determine maximum bids on feeder cattle purchases.
Cow-calf producers are invited to genetic selection and genomics meetings offered through Iowa Beef Center. Choose any of four locations to attend at no cost, but be sure to preregister to reserve your meal. Read about speakers, topics, locations and times.
A series of facility workshops designed for feedlot producers will offer an overview of facility types, advantages and disadvantages, with a goal of better-informed decision-making by those who attend. With a limit of 30 per site, register soon for one of the 11 locations with dates of mid-February through late March.
A new series of six fact sheets on changes in coproducts and the subsequent effects on nutritional and economic value for beef cattle is now available from IBC. Each fact sheet provides specific relevant updated information on these changes and suggestions on how producers can effectively use the new products.
See these resource pages (Sources and resources are added as they are available.)
Flood resources
Water management and drought resources
ISU Extension and Outreach resources