News from Iowa Beef Center
The Greenhorn Grazing short course offers livestock producers with an interest in beginning or transitioning grazing practices the opportunity to hone their skills. The northeast Iowa five-part series begins next month.
As the beef feedlot industry in Iowa continues to grow and improve, some producers are considering their options for expanding or new feedlot facilities. That's why IBC and ISU Extension and Outreach have completely revised the Beef Feedlot Systems Manual and developed a calculator to help users estimate costs for alternatives for expanding or new facility construction. Electronic versions of both are free.
The Estrus Synchronization tool has been updated to v15 and is now available for free download on the IBC website. See more information, including "how to use" videos and a link to register for the program. (newly updated 5-20-15)
The 2015 Applied Reproductive Strategies in Beef Cattle Symposium (ARSBC) will be held August 17 and 18 on the campus of the University of California -- Davis. Garland Dahlke is ISU's representative on the Beef Reproduction Task Force which sponsors the event.
Most of the 2014 ISU Research Farms Progress Reports are now available online. The exceptions are: McNay, Agricultural Engineering and Agronomy Research Farms, Central Iowa Farms, and the BioCentury Farm, all of which will be posted by the end of this month. Go here and choose any of the farms listed.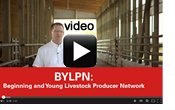 The Beginning and Young Livestock Producer Network (BYLPN) program offers species-specific information and educational opportunities for young Iowa livestock producers. In this short video, ISU Extension and Outreach beef program specialist Patrick Wall describes the program and how new and established farmers can benefit through their participation.
Iowa Beef Center's newly released "Cattle Bidder" app for Android can help cattle feeders, order buyers and bankers determine maximum bids on feeder cattle purchases.
See these resource pages (Sources and resources are added as they are available.)
Flood resources
Water management and drought resources
ISU Extension and Outreach resources