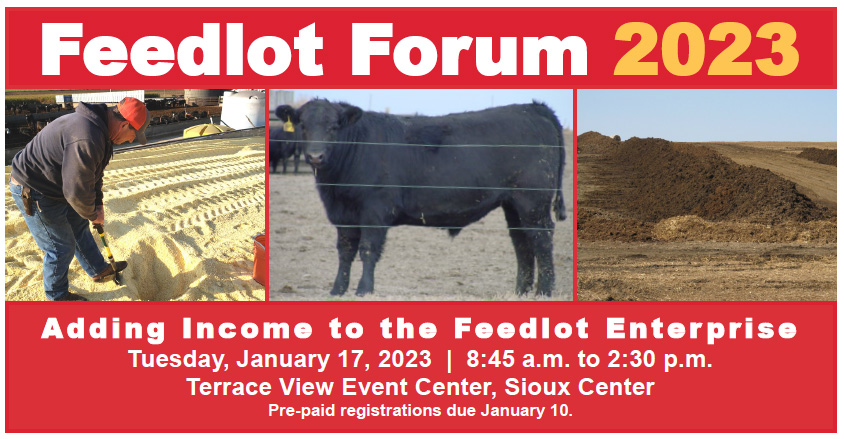 Cost is $25 for adults, $10 for students. Registration deadline is Jan. 10, 2023.
For more information, contact Beth Doran, ISU Extension and Outreach Beef Specialist, at 712-737-4230 or doranb@iastate.edu. 
Agenda
8:45 a.m. - Registration, Refreshments and View Trade Show
9:45 a.m.- Welcome and Introductions
David Olson, President, Sioux County Cattlemen's Association
10 a.m. - Characterizations of Corn Grain Harvested as High Moisture in the Upper Midwest
Zach Smith, Assistant Professor of Animal Science, South Dakota State University
2022 Silage and Earlage Laboratory Analysis & Reimplant Label Update
Wes Gentry, Nutritionist, Midwest PMS LLC
11 a.m. - Visit with Trade Show Exhibitors
11:30 a.m. - Steak Dinner
12:30 p.m. - Cows, Carbon Credits, and Compost: Converting Manure to a Currency Creator
Dan Andersen, Associate Professor and Extension Specialist of Agricultural and Biosystems Engineering, Iowa State University
1:30 p.m. - Cattle Market Outlook
Caitlyn Grudzinski, Account Executive, Commodity and Ingredient Hedging
Presenters
Zach Smith

Zach Smith has served as an Assistant Professor in the Department of Animal Science and as the Faculty Supervisor of the Ruminant Nutrition Center of the South Dakota Agricultural Experiment Station in Brookings, SD since July of 2018.
He earned a Bachelor of Science degree in Animal Production from Texas Tech University. He received a Master of Science Degree under the direction of Dr. Robbi Pritchard from South Dakota State University in 2015 and a Doctor of Philosophy degree under the direction of Dr. Bradley Johnson in 2018.
Zach has a 70/30 split of research and teaching at South Dakota State University.  Zach along with his first Ph.D. student turned colleague, Dr. Warren Rusche take a team approach to mentoring graduate students and conducting applied research focused on nutrition and management interventions that enhance receiving, growing, and finishing beef cattle production in the Northern Plains. Zach also co-teaches Feedlot Operations and Management with Dr. Rusche, a capstone animal science course at SDSU and teaches a graduate course in ruminant nutrition and an applied protein and energy course.
Zach and his Wife Shyan reside just north of Brookings along with their two children, Maddox Kru and Renner Jack Toland, Bonnie the cat, and Max the dog.
Wes Gentry
Dr. Wes Gentry holds B.S. and M.S. degrees from West Texas A&M University and a Ph.D. from South Dakota State University. Dr. Gentry provides nutrition services for feedyards in the Northern and Central Great Plains as a member of the Midwest PMS consulting group. Wes and his family live in Sioux Falls, SD.
Dan Andersen
Dr. Dan Andersen, @DrManure on Twitter, is an associate professor and extension specialist in the Agricultural and Biosystems Engineering department at Iowa State University. His research and extension work revolves around manure management and utilization, sustainability, and environmental footprinting. He will look at current markets for valorizing carbon from manure, the impact it can have, and provide perspectives on where the market will move. We will look at manure treatments, including composting, to turn manure into a marketable product, focusing on when it is advantageous and what you will have to do to make it work.
Caitlyn Grudzinski
Caitlyn is an Account Executive/Project Manager on CIH's beef margin management team, helping clients in the cattle market manage their price risk. Prior to joining CIH, Caitlyn worked at Goldman Sachs in their risk department with experience in currencies and credit. Originally from Texas, she earned an MBA with honors from the University of Chicago, Booth School of Business. At Wesleyan University she earned a BA in Economics and pitched for their Division 3 softball program.
Sponsors
Agri-King, Inc.
AgriVision Equipment Group
Automated Waste Systems
Bakker Consulting, Inc.
Chr-Hansen, Inc.
Farm Credit Services of America
Farmers Business Network
Farmers Coop Society
Iowa Corn
Merck Animal Health
Midwest PMS LLC
Neogen
New Vision Coop
Nutrient Advisors
Performance Livestock Analytics
Post Equipment
Producers Livestock
Sioux Automation Center
The Fine Twine Company
Zinpro
Zoetis