Workshop will help cattlemen plan for successful breeding season
3/16/23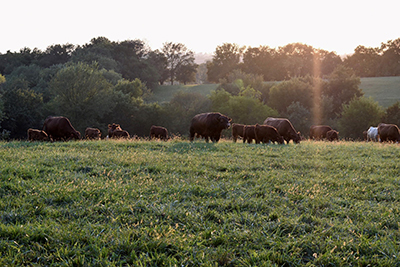 GUTHRIE CENTER, Iowa — Research has consistently shown that calves born earlier in the season are more profitable. To help beef producers optimize the potential for getting more females bred earlier, the Iowa Beef Center at Iowa State University and Select Sires are partnering on a breeding season workshop set for April 13. The program will be held from 11 a.m. to 3 p.m. in the Community Building at the Guthrie County Fairgrounds, 402 W State St., Guthrie Center. The overall focus is on capitalizing on the value of reproductive efficiency.
Erika-Lundy Woolfolk, ISU extension beef specialist for southwest Iowa, is coordinating the workshop and said attendees will benefit from classroom presentations and hands-on opportunities.
"The workshop will address taking advantage of available technologies, production information, and best management practices to positively impact overall reproductive success," she said.
The program includes these classroom style presentation topics and speakers.
Utilizing Reproductive Technologies to Improve Efficiency – Burke Suckow, Select Sires
The Genetics of Reproduction – Dr. Randie Culbertson, ISU extension cow-calf specialist
Maximizing Herd Bull Care – Erika Lundy-Woolfolk, ISU Extension beef specialist
Over the lunch hour, several hands-on stations will be available for attendees to build upon their existing knowledge base at their own pace and to seek one-on-one guidance from speakers and sponsors.
Some of the station features are semen handling, nitrogen tank care, ISU Estrus Synch planner usage,  and exploring reproductive technologies; as well as a discussion on reproductive herd health led by Guthrie County Veterinary Services. See the workshop flyer.
The workshop is free, including a noon meal, thanks to sponsorship of Select Sires and Guthrie County Extension. Walk-ins are welcome, although preegistration is strongly encouraged by April 11 to ensure adequate meals and supplies. Register by calling the Guthrie County Extension office at 641-747-2276 or emailing Erika at ellundy@iastate.edu.
-30-

The Iowa Beef Center at Iowa State University was established in 1996 with the goal of supporting the growth and vitality of the state's beef cattle industry. It comprises faculty and staff from Iowa State University Extension and Outreach, College of Agriculture and Life Sciences and College of Veterinary Medicine, and works to develop and deliver the latest research-based information regarding the beef cattle industry. For more information about IBC, visit www.iowabeefcenter.org.
Contact:
Erika Lundy-Woolfolk, ISU Extension and Outreach beef specialist, 641-743-8412, ellundy@iastate.edu