Iowa Beef Center to host fencing and grazing clinic at ISU Armstrong Farm
3/27/23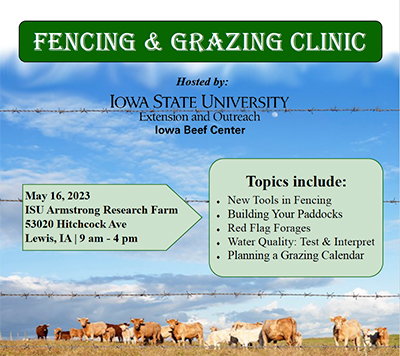 LEWIS, Iowa — The 2023 Fencing and Grazing Clinic, organized and hosted by Iowa Beef Center and Iowa State University Extension and Outreach, is set for May 16 at the ISU Armstrong Research Farm near Lewis in southwest Iowa. Iowa State extension beef specialist Erika Lundy-Woolfolk said the clinic is timely and practical.
"By holding this clinic in May, we hope participants will be able to take more information they've learned and put it to use this grazing season," she said. "Attendees will learn about new fencing tools and technology, managing paddocks and unwanted forages to improve productive and more."
Lundy-Woolfolk and IBC extension program specialist Beth Reynolds are planning the daylong event, which will run from 9 a.m. to 4 p.m. Location is the Wallace Learning Center at the farm, 53020 Hitchcock Ave.
"In the morning, our hands-on learning includes a permanent and temporary fencing demonstration led by Gallagher, and a group activity on designing paddocks within your pasture, led by NRCS," she said. "We've also planned classroom sessions on identifying and managing weeds in pastures, water quality and building a grazing calendar."
Topics and confirmed speakers are:
New Tools in Fencing – Brad Cochran and Brad Ketchum, Gallagher
Building your Paddocks – Kayla Creek, Natural Resources Conservation Service
Red Flag Forages – Aaron Saeugling, Iowa State University Extension and Outreach field agronomist
Planning a Grazing Calendar – Beth Reynolds and Erika Lundy-Woolfolk, Iowa Beef Center
Water Quality: Testing, Interpreting, and Impact on Performance – Garland Dahlke, Iowa Beef Center
There is no cost to attend thanks to the event sponsors: Gallagher, Iowa Forage and Grassland Council, Theisen's, Millborn Seeds, Iowa State Beef Checkoff Program, Practical Farmers of Iowa and Dairyland Laboratories, Inc.
Preregistration is required to attend and should be made no later than Friday, May 12. To register, contact Lundy-Woolfolk at ellundy@iastate.edu or 641-745-5902 or Reynolds at bethr@iastate.edu or 307-761-3353.
See the clinic flyer for a quick look at topics and sponsors.
-30-

The Iowa Beef Center at Iowa State University was established in 1996 with the goal of supporting the growth and vitality of the state's beef cattle industry. It comprises faculty and staff from Iowa State University Extension and Outreach, College of Agriculture and Life Sciences and College of Veterinary Medicine, and works to develop and deliver the latest research-based information regarding the beef cattle industry. For more information about IBC, visit www.iowabeefcenter.org.
Contacts:
Erika Lundy-Woolfolk, ISU Extension and Outreach beef specialist, 641-743-8412, ellundy@iastate.edu
Beth Reynolds, ISU Extension and Outreach program specialist, 515-294-9881, bethr@iastate.edu