Iowa Beef Center to host fall Fencing and Grazing Clinic in eastern Iowa
8/2/23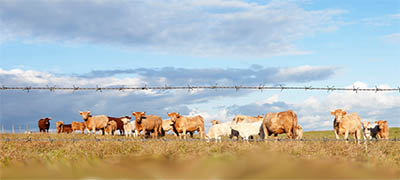 BALDWIN, Iowa — The Fencing and Grazing Clinic, organized and hosted by the Iowa Beef Center and Iowa State University Extension and Outreach, is set for Sept. 14 from 9 a.m. to 4 p.m. at the David Burmahl farm, north of Baldwin and northwest of Maquoketa.
IBC extension program specialist Beth Reynolds and IBC beef specialist Denise Schwab are planning the daylong event.
Reynolds said the clinic will help producers who want to implement rotational grazing programs.
"Attendees will learn how to implement rotational grazing around the biggest hurdle, infrastructure," she said. "Speakers will discuss current fence technologies, water infrastructure, and the basics for designing a paddock system within a pasture to fit grazing and labor goals in a hands-on, classroom, and demonstration learning environment."  
Schwab said the location of the clinic will show opportunities for paddock divisions on typical east-northeast Iowa ground.
"Well-managed and well-rested pastures are essential, and they're even more important with the current dry conditions we've been experiencing," she said. "This fencing and grazing clinic will demonstrate paddock divisions in typical northeast Iowa pasture of valleys, timber and open ridge tops to show how we can subdivide even in these challenging pastures."
Clinic host David Burmahl has been rotationally grazing hills and timber pastures, and is always looking for new ways to intensify his grazing rotation. He also has developed a year-round tire tank waterer that works for winter and summer grazing.
Clinic topics include:
New tools in fencing
Building your paddocks
Options: Heavy use areas and waterers
Water infrastructure
Fence law and grazing leases
See the clinic flyer for agenda and program details.
Lunch will be provided. There is no cost to attend the clinic thanks to the following sponsors: Gallagher, Stockade, and the Iowa Forage and Grassland Council.
Preregistration is required to attend and should be made no later than Sept. 12. To register, contact the Jackson County Extension Office at hmaier@iastate.edu or 563-652-4923. For questions on the clinic, contact Reynolds at bethr@iastate.edu or 307-761-3353.
-30-
The Iowa Beef Center at Iowa State University was established in 1996 with the goal of supporting the growth and vitality of the state's beef cattle industry. It comprises faculty and staff from Iowa State University Extension and Outreach, College of Agriculture and Life Sciences and College of Veterinary Medicine, and works to develop and deliver the latest research-based information regarding the beef cattle industry. For more information about IBC, visit www.iowabeefcenter.org.
Contact:
Beth Reynolds, ISU Extension and Outreach education specialist, 515-294-9881, bethr@iastate.edu