New beef x dairy resource available on Iowa Beef Center website
10/25/23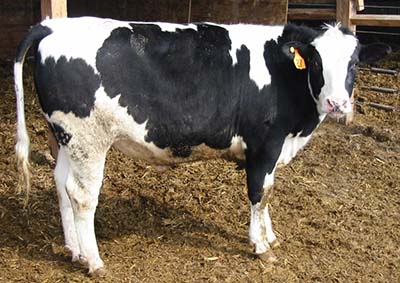 AMES, Iowa – A new resource for producers feeding beef on dairy crossbreds is now available thanks to a grant from the Iowa Beef Industry Council. Funded through the Iowa State Beef Checkoff, this research grant to a team at Iowa Beef Center focused on a three-part project which includes the creation of a web resource library on current beef x dairy information. The web resource library is part of the IBC website and the Iowa State University Dairy Team website.
"Most existing resources focus strictly on feeding the straight dairy calf, and mostly straightbred Holsteins," said project leader and ISU extension beef specialist Denise Schwab. "This resource list is specific to the beef on dairy crossbred, and includes everything from simple fact sheets to major research results from all across the country."
The grant-funded project is a result of the 2017 decision of Iowa beef producers to reinstate the 50 cent per head Iowa State Beef Checkoff. Priorities for research funding are set by the IBIC research committee which is made up of Iowa beef producers, Iowa State faculty and allied industry professionals, and this project aligned with a beef on dairy cross cattle research priority.
"The Iowa Beef Center faculty and staff stepped up to make this happen in continued support of this new source of feeder cattle hitting our feedyards and processing facilities," said project team member and ISU animal science professor Dan Thomson.
Other team members working on this project are ISU extension dairy specialist Gail Carpenter, ISU extension beef specialist Beth Doran, IBC research scientist Garland Dahlke, and ISU animal science graduate student Taylor Klipp.
The other two parts of the project are: to evaluate whether the early nutrition and health of beef x dairy crossbred calves can impact their final health and performance, and to survey those who raise beef x dairy calves on best management practices.
Carpenter, dairy extension and outreach specialist, is excited about the overall project.
"Beef on dairy is such a new space, and we are constantly learning new things," she said. "This resource will give us the opportunity to quickly provide the best and most current information to producers and allied industry as it becomes available."
The cattle portion of this project involves feeding three groups of beef x dairy calves from birth to harvest through the ISU Feed Intake Monitoring System, by recording daily intakes and measuring growth, performance, and collect carcass data. The project will compare two different calf starter rations, one high in starch and one low starch, and two different feedlot receiving diets, one pelleted and one a total mixed ration with forage.
The first group of calves is now in the finishing stage at the Armstrong Research Farm and should be marketed early this spring. The second group is being fed at the ISU Beef Nutrition Farm, currently on a growing ration, and should be marketed next summer. The third group has just been weaned at the ISU Dairy Farm and moved to the Beef Nutrition Farm to start on the receiving trial. It's scheduled to be marketed next fall.
The third project segment, the producer survey, is still taking responses from producers on their experiences with raising dairy versus beef x diary crossbred calves. If you're interested in sharing your experiences, please contact Schwab by email at dscwhab@iastate.edu or call 319-721-9624. The survey should take only 10 minutes to complete. Results of the survey will be announced later this winter and will be added to the resource web page.
(This article was written by IBC communications student assistant Makenzie Hereth.) 
-30-
The Iowa Beef Center at Iowa State University was established in 1996 with the goal of supporting the growth and vitality of the state's beef cattle industry. It comprises faculty and staff from Iowa State University Extension and Outreach, College of Agriculture and Life Sciences and College of Veterinary Medicine, and works to develop and deliver the latest research-based information regarding the beef cattle industry. For more information about IBC, visit www.iowabeefcenter.org.
Contact:
Denise Schwab, ISU Extension and Outreach beef specialist, 319-721-9624, dschwab@iastate.edu