Workshop series scheduled on winter feeding basics for your cow herd
10/31/23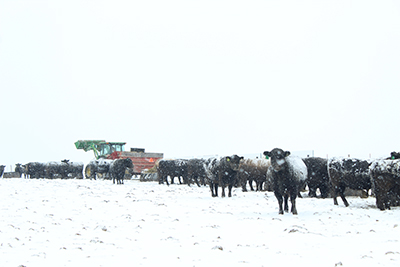 AMES, Iowa – The dry growing conditions of 2022 and 2023 have led to supply and quality issues of hay and other forages in some areas of the state. Cattlemen may be faced with a short supply of hay, corn silage with the potential for nitrates, and poor pastures that resulted in stored hay being fed most of the summer. Unfortunately, tight hay supplies will likely lead to higher prices later in the winter feeding period, according to Iowa State University extension beef specialist Denise Schwab.
"Controlling feed cost while meeting all of the cow's nutrient requirements requires knowledge of both the feed supply and the animal's requirements," she said. "ISU extension beef specialists have developed a series of workshops to help producers plan for their beef cow winter feeding programs."
At each location, beef specialists will discuss the current hay situation, the impacts of the dry conditions on forage quality, potential toxicity concerns, and balancing cow rations in late gestation and early lactation. Topics and speakers will vary by location, so please check with the site you wish to attend for information specific to that location. The series flyer has location-specific information for all sites.
Workshop dates, times and locations are as follows. Please preregister by calling the host county Extension office at the phone number listed for that site.
November
Nov. 20, 6:30 p.m., Turner Hall, Postville, 563-425-3331 .
Nov. 27, 6:30 p.m., North Iowa Fair 4-H Center,  Mason City, 641-231-1711.
Nov. 28, 6 p.m., Marion County Extension Office, Knoxville, 641-842-2014.
Nov. 29, 9:30 a.m., Lohff-Schumann Community Center, Holstein, 712-225-6196.
Nov. 29, 1 p.m., Grace United Methodist Church, Spencer, 712-262-2264.
Nov. 29, 6:30 p.m., NERF Borlaug Center, Nashua, 641-231-1711.
Nov. 30, 1:30 p.m., Tama County Extension Office, Toledo, 641-484-2703.
December
Dec. 4, 6 p.m., Lucas Co Extension Office, Chariton,  641-774-2016.
Dec. 5, 6:30 p.m., Jones County Extension Office, Monticello, 319-465-3224.
Dec. 7, 6:30 p.m., Dallas Co Extension Office, Adel, 515-993-4281.
Dec. 12, 6 p.m., Clarke County Fair & Event Center, Osceola, 641-342-3316.
Dec. 13, 3 p.m., Humboldt Vet Clinic, Humboldt,  641-231-1711.
All cattle producers are encouraged to attend. For more information, contact your local ISU extension beef specialist.
-30-
The Iowa Beef Center at Iowa State University was established in 1996 with the goal of supporting the growth and vitality of the state's beef cattle industry. It comprises faculty and staff from Iowa State University Extension and Outreach, College of Agriculture and Life Sciences and College of Veterinary Medicine, and works to develop and deliver the latest research-based information regarding the beef cattle industry. For more information about IBC, visit www.iowabeefcenter.org.
Contact:
Denise Schwab, ISU Extension and Outreach beef specialist, 319-721-9624, dschwab@iastate.edu