2022 Update for Veterinarians program set for July 7

note: pdf files open in new window/tab
6/3/2022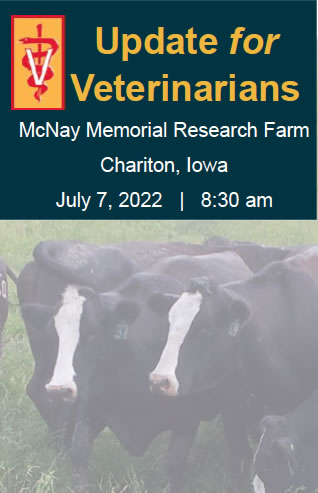 CHARITON, Iowa – The 2022 Update for Veterinarians program offers current information and education focused on beef production. Organizer Chris Clark said practitioners who work with cattle will hear from Iowa State University experts on nutrition and diet formulation, troubleshooting common health problem related to nutrition, and more during the July 7 event.
"In addition to sessions focused on nutrition and related topics, presenters will provide updates from the ISU Veterinary Diagnostic Laboratory," he said. "I think the program will include useful information that veterinarians can take home and use right away in their practices."
Clark, an ISU extension beef specialist, said the morning session features Dr. Garland Dahlke, nutritionist and research scientist with the Iowa Beef Center/ISU animal science department. He'll speak on these topics: fractions of formulation – applied nutrition with focus on protein, nitrogen and the formation of metabolizable protein, and troubleshooting common health problems as they relate to nutrition.
"In the afternoon, Dr. Scott Radke and Dr. Drew Magstadt will provide toxicology and veterinary diagnostic lab updates respectively," Clark said. "As usual, we'll be at the ISU McNay Memorial Research Farm and attendees can talk with farm staff about projects."
Those who preregister by July 6 will pay $50 per person which includes lunch, catered by Cater 2U, and a morning break. Those who register onsite will pay $70.  Registration is handled by the Lucas County Extension Office in Chariton. Five hours of continuing education credits have been requested.
View and download the vet update brochure with complete agenda, speaker biographies and registration information.
Registration begins at 8:30 a.m. at the farm headquarters with the first speaker starting at 9 a.m. Please note that start time is just a bit earlier than in some previous years.  A catered meal will be served at 12:15 p.m. and the program is expected to end around 3:30 p.m.
For more information, contact Clark by phone at 712-250-0070 or by email at caclark@iastate.edu.
-30-

The Iowa Beef Center at Iowa State University was established in 1996 with the goal of supporting the growth and vitality of the state's beef cattle industry. It comprises faculty and staff from Iowa State University Extension and Outreach, College of Agriculture and Life Sciences and College of Veterinary Medicine, and works to develop and deliver the latest research-based information regarding the beef cattle industry. For more information about IBC, visit www.iowabeefcenter.org.
Contact:
Chris Clark, Iowa State University Extension beef specialist, 712-250-0070, caclark@iastate.edu